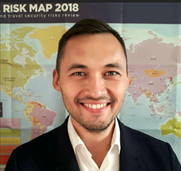 Our expert speaker at the event:
Timur Baiguzhinov
, Regional Security Manager, JV Intl.SOS-Control Risks, Eastern Europe and Central Asia.
Read more...
By submitting, I agree to International SOS Terms & Conditions and
Privacy Policy
. Read more about our
Privacy & Cookies policy
and our
GDPR Statement
, do not hesitate to
contact us
should you have any questions or would like your contact information and activities to be completely removed from our database.